Data protection & GDPR software
Efficient data protection management for your company
The topic of data protection is omnipresent: in the business sector as well as in the private sphere. In 2018, all companies were faced with far-reaching changes in terms of data protection: Since 25 May 2018, the General Data Protection Regulation (GDPR) of the European Union (EU) also applies in Germany - a rule that applies throughout the EU. Under the new EU law, the previous Federal Data Protection Act (BDSG) and the EU Data Protection Directive (Directive 95/46 / EC), on which the BDSG is based, are no longer directly applicable.
The EU-GDPR standardizes the rules for the processing of personal data by private companies and public authorities across the EU. The aim is, on the one hand, to ensure the protection of personal data within the European Union and, on the other hand, to ensure the free movement of data within the European single market.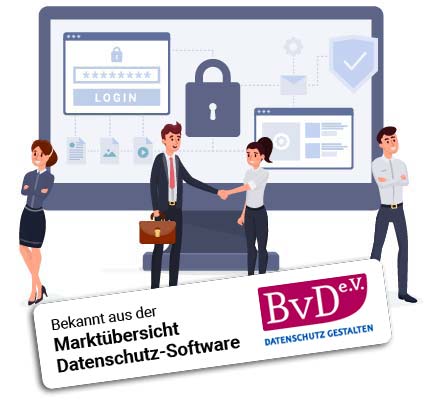 Successfully building a data protection organization through the use of legal tech
Make data protection compliance the flagship of your company! We show you how you can successfully introduce and establish a data protection organization through sound structural and procedural organization as well as clearly defined processes and the use of legal tech.
Data protection management software - these are your advantages!
With the TQG businessApp platform® you have your company's data protection management centrally in one place - everything at a glance in one businessApp!

EASY
Access to samples and templates
All data protection-relevant processes in your company always in view

SMART
Workflow-driven information through the data protection area
Frequently asked questions (FAQ)

EFFICIENT
precise instructions save time & money
all important information digital & clearly arranged
This is what data protection is all about:
Involve the data protection officer more closely, define responsibilities
Establish data protection impact assessment/privacy impact assessment as a process
Design processes: Reporting obligations in the event of data breaches
Design other processes: Data subject rights, information obligations, etc.
Document all processes
Adapt commissioned data processing (ADV) contracts
Review directory of procedures
For processors: create new directory of processing activities
Set up training schedule
Document (have documented) and evaluate technical and organizational measures (TOM), define responsibilities
Check effectiveness of TOM, plan penetration tests and information security management
If necessary, plan technical implementation of data subject rights - information, data portability, etc.
Check forms and consents
Adapt privacy policy, adapt web tracking if necessary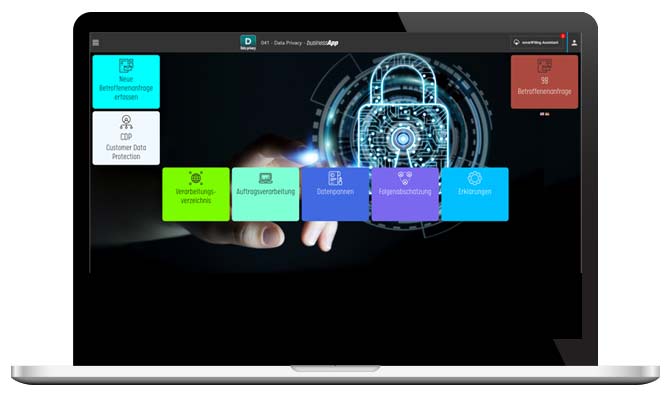 HTML Example
A paragraph is a self-contained unit of a discourse in writing dealing with a particular point or idea. Paragraphs are usually an expected part of formal writing, used to organize longer prose.
600 seconds about... Data protection and legal tech
In less than 10 minutes, you'll learn everything you need to know to successfully build a data protection organization through legal tech!
❕ There are no excuses - now we're tackling digitization!
❓ But how does that work in concrete terms?
❓ What do I need to consider?
❓ What are the risks and dangers if I don't do it?
❓ How do I fill a data protection organization with life?
Violetta Weber (Senior Data Privacy Expert) provided the answers to these questions at the Digital Opening of the 2021 Corporate Counsel Conference on January 18, 2021.
Benefit from best practice data protection in the
TQG

businessApp platform®

Meeting data protection requirements is an investment for you and your company.
Realize YOUR data protection management with the TQG businessApp platform®:
AUTOMATED & WORKFLOWS
For tracking processes
DEADLINE WORKFLOW
firmly integrated in the
TQG
businessApp
platform
®
COMPANY-WIDE DMS SYSTEM
usable in every department, globally available
PROCEDURE DOCUMENTATION
all procedures at a glance, documented
and archived
LAWFUL ACTION
Ensuring lawful action in the sense of good corporate governance
AUDIT SECURITY
Audit security through history management.
All files and processes remain in view.
POSITIVE PUBLICITY
through efficient data protection management
RESUBMISSIONS & TEMPLATES
Resubmissions and Template Management
DATA PROTECTION MANAGEMENT PROCESS
Documentation based on a firmly established process
EXCEL & BIRT
Excel and BIRT Reportings are possible
SMART-SEARCH
Research with smart-Search
CROSS-DEPARTMENTAL COLLABORATION
Improving collaboration across the enterprise
DOCUMENTATION
Order processing contracts, data protection tasks,
processing activities, processing directory
MANAGEMENT OF REQUESTS
Management of requests from concerned persons
TRANSPARENCY
Increase transparency

Interested in an all-round carefree package for your digital transformation?