Document Assembly
The automated document creation
How about:
IF YOU
... could automate documents or contracts that you create on a regular basis?
... you could break them down into reusable clauses?
... quickly give documents and contracts a new layout?
It would be as if YOU could live and work completely paperless and always finish work on time.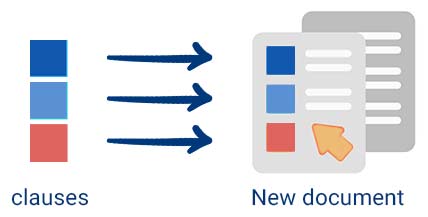 The term Document Assembly means "document automation".
The TQG businessApp platform® Modul Document Assembly can break down documents and contracts into reusable building blocks. The Clause Library allows the collection of these "clauses" and can generate new documents and document templates by dynamically assembling different clauses.

The desired clauses can be extracted from the contracts and flexibly copied into other contracts with the help of the Document Assembly via "drag and drop". The Layout of documents and contracts can also be adapted quickly and flexibly.

In this way, contracts of all kinds can be designed flexibly in their structure and layout.
What are YOUR advantages and YOUR benefits of the Document Assembly?
Flexible template design
YOU can flexibly create templates with the Document Assembly module.
Working steps
All individual work steps can be traced back in detail.
Clause Library
YOU can build a "Clause Library" to manage prepared content.
Working steps
All individual work steps can be traced back in detail.
Functions
A preview function, updates and the creation of new versions are possible.
Drag & Drop
Clauses can be incorporated into new documents or contracts via "drag and drop".
smartSearch
Highly optimized search across all contracts, files and documents for metadata and text in files, sorted by relevance
Reports
smart dashboards give YOU an overview of all needed KPI's of YOUR organization
How is the Document Assembly structured?
It consists of the following sections:
Preview of the clause
Creation of a new clause
Updating a clause incl. metadata
Upload of a new version
Reassignment of the clause
Creating a document from clauses
Clause Structure Editor