Compliance Management System
Create free space with a compliance management system (CMS)
Compliance management helps to improve the consistency of a company's business model, its public reputation and its financial situation.

There are numerous challenges for managers in dealing with compliance-relevant, digital data:
Clear definition of the organisational model, processes, completeness of compliance-relevant data and information, roles and responsibilities.
Providing integrated information technologies for the audit-proof and structured storage and evaluation of company-critical information
Ensure traceability of data and processes (audit trail)
Objectives should therefore be:
Audit capability through completeness
More transparency and decision support (ICS)
Integrated risk management
Reduction of costs
Avoid liability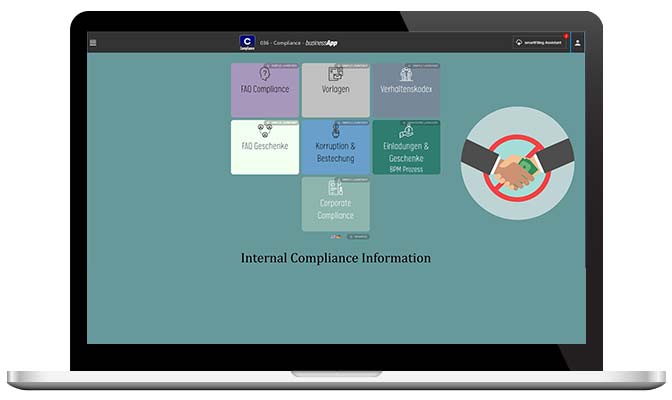 Why is compliance management a good investment?
A digital compliance management system to ensure compliance in critical business processes and support compliance work again creates the necessary freedom to actively shape a compliance culture.

This is precisely where Best Practice Compliance Excellence comes in. This means the operative and sustainable support of employees in all compliance-relevant and critical business processes. Employees in legal, purchasing, sales, finance, HR, etc. are supported in their tasks through the use of compliant business processes according to the latest BPMN 2.0 standards and the provision of up-to-date compliance knowledge. This applies in particular to international groups and their effective integration and control of employees in subsidiaries at home and abroad.

With Compliance Excellence as a best practice package, The Quality Group offers the ideal tool for sustainable and effective organisation, structuring, documentation and implementation of a compliance management system. Compliance Excellence represents a comprehensive framework and is a modular, separately licensable component of the TQG businessApp platform®.

The outstanding feature of the TQG businessApp platform® is the elegant combination of - structured data - documents - business processes - analysis/reporting in one product. The perfect symbiosis of structured information in digital files (knowledge, content, documents and risk-related business processes (BPM). This is complemented by integrated resubmission/ deadline management, training organisation, risk management and analysis/reporting functions. Further strengths of all modules of the TQG businessApp platform® are outstanding ease of use and company-specific configurability.


Compliance Management - This is what's in it for YOU!
Compliance organization (CMS project record, training record, audit record, etc.)
Compliance Case Management (Compliance record)
Workflow management/business process support/approval processes
Follow-up and time management (training, risk analysis, ...)
Templates/template management for global, country-specific standardization
Self-service document/contract builder (compliance secured document/contract preparation)
Search function (filter, structured search, full text search, fuzzy search)
Reporting/analysis (training certificates, Who? When? What? By whom? How long?)
Knowledge management (FAQs, case studies)
Micro-learning (regular distribution of case studies with feedback function)
Communication functions for surveys or feedback
Authorization and security

Appplication scenarios for Compliance Excellence
Compliance Organisation
Project documentation for implementing the Compliance Management System (CMS)
Versioned document management (guidelines, training materials, audit reports, etc.)
Case Management (incident documentation, fact collection measures)
Reminders/time management for audits or deadlines
Compliance monitoring
Audit planning and documentation (checklists, final, quarterly and annual reporting)
Workflow/process support within the compliance organization
Process based knowledge management (knowledge file, case studies, FAQs, legal integration)
Training management (planning, content, participant certification, testing, proof of success)
Micro-learning (cyclical distribution of case studies with feedback, response measurement, learning curve)
Employee survey on compliance culture
Reporting/analysis (certificates, reporting, learning curve)
Legal /Procurement / Sales
Unterstützung/Sicherstellung der Compliance im Contract Lifecycle beginnend bei Geschäftspartner Due Diligence über Vertragserstellung bis Vertragsbewirtschaftung (Compliance Klauseln, Checklisten, Compliance Regeln, Trainings, Beispiele verfügbar machen im Prozess)
Bereitstellung von compliance konformen Boiler Plates oder Templates
Dokumentationsnachweis über die realen Vertragsprozesse und Entscheidungen
Sicherstellung der Compliance in der Lieferkette (automatisierter Mailversand von Verpflichtungserklärung Geschäftspartner zu Compliance mit Überwachung Rücklauf
Planung und Dokumentation von Lieferantenaudits
Reporting/Analyse "Compliance Radar" über Lieferanten
Human Resources
Documentation of all personnel-related documents in a personnel record (application, employment contract - including their compliance obligations, bonus agreements, performance documentation, training certificates)
Personnel record for personal documents (employment contract - including compliance obligations, etc.)
Workflow support for recruiting process, onboarding and change of job
Reminders/time management for cyclical compliance training, performance discussions