Software for Finance and Controlling
Digital accounting and inventory according to IFRS standards 15 & 16
IFRS 15 & 16 - Secure accounting
The IFRS - International Financial Reporting Standard - places high demands on accounting and costing systems. The standards IFRS 15 (Revenues from contracts with customers) and IFRS 16 (Leases) will be revised in 2018 and 2019, respectively.
IFRS 15 & 16 are a new generation of standards that lead to fundamental changes in accounting.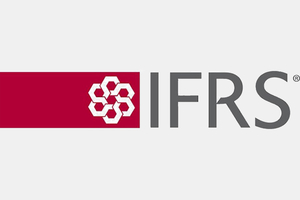 IFRS 15 - Revenue from contracts with customers

As of May 28th 2014, the new standard summarises the significant regulations applicable up to that time with respect to the presentation of revenues from customer contracts. In accordance with IFRS 15, as of January 1st 2018, companies are required to show revenues differently in their accounts if they offer products and the associated services in a package (multi-component contracts). This allows/requires the separation of contractually regulated service obligations into parts that can be used individually. For example, an end device delivered with a mobile phone contract, despite bundling/coupling to the contract term, becomes a separate line item that is to be fully realised, as of its usability. The procedure illustrated here decouples revenue recognition and invoicing, thereby placing new demands on IT-related processing and the recording of service obligations.
IFRS 16 – Lease contracts accounting
In January 2016, a new standard (replacing IAS 17 and IFRIC 4) for the accounting of lease agreements was published, which applies to reporting periods beginning after 1st January 2019. The standard contains important changes, such as the requirement to recognise leases as an asset in the lessee's balance sheet as part of the "Right-of-Use Approach" or the no longer applicable distinction between finance and operating leases for the lessee, such as rental agreements, equipment, copiers, office space or company cars. All existing leases must be reviewed and revalued and the previously undocumented data must be recorded for accounting purposes.
Similar to the provisions of IAS 17 for finance leases, lease liabilities are amortised on a financial basis over the term of the lease agreement. While the right of use is amortised according to plan, this results in higher expenses at the beginning of the lease term. That is to say:
For all leases, the lessee recognises a lease liability in his balance sheet for the obligation to make future lease payments for all leases
In addition, the lessee activates a right to use the underlying asset, which in principle corresponds to the present value of future lease payments, plus directly attributable costs.

TQG businessApp platform® - Garant für Klassifizierung/Inventarisierung
In order to support the newly designed business processes in accounting and inventory in accordance with IFRS standards15/16, the TQG businessApp platform® offers the appropriate "modules" with the IFRS App to ensure an audit-compliant process, with efficiency and security:
Professional integration
Simple transfer of financial/accounting data and active support in the assignment of values to existing contracts with the LCM Integration Gateway
Efficient business process:
Guided valuation and classification model for all contractual leases
IFRS 15
Direct support of the 5-step process for determining service obligations and transaction prices in your contract portfolio
IFRS 16
System-based calculation for a day-by-day overview of value and residual obligations in all leases
Reporting
Ability to provide information at any time – giving a clear overview of the values of your contracts for your balance sheet
Currency- and country-specific:
By specifying the currency information, central functions for translating all values to the Group's presentation currency are available in reporting
Economic impact and continuous ability to provide information at any time - clear overview of the values of your contracts for your balance sheet
Interesting for you?
Then talk to us!
The LCM Product Management Team would be delighted to provide you with further information.